We often have customers ask us "How long can I hold off on a roof repair?".  It's hard to answer these questions because of the varying weather conditions in the Colorado Springs area. One strong storm could make a big difference in the condition of a compromised roof.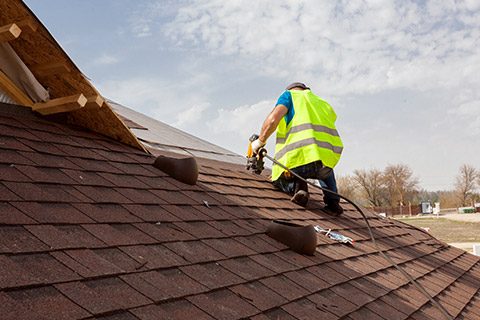 Of course, if your roof is in great condition, we'll let you know. We do have customers that ask us to come give them an estimate for hail damage roof repair, and it turns out there is nothing wrong with their roof. A little worry is ok, and we always hope our honesty will bring us back to mind when it comes time for a true roof repair or roof replacement.
Roof Repair or Roof Replacement?
But if we give you an estimate for roof repair it is because your roof will need it. Another summer of hot Colorado Springs sun, more seasons of hailstorms, another winter of strong storms, and more certainly aren't going to make your roof repair needs go away. Furthermore, our Colorado Springs hail damage roof repairs are often scheduled around the weather. So a roof repair before fall and winter storms will go much faster when done during the summer months with longer days. Once winter comes, many roofers will be hesitant to schedule too many repairs in case of inclement weather. Quality roofing companies (and of course we consider ourselves to be one!) want to ensure great customer service which may mean scheduling fewer clients during the winter so we can be sure to get to them all.
Damaged or weakened roofs can suffer from harsh weather that increases the need for roof repair services. If your shingles are already old, harsh sun or freezing conditions is going to damage them even more. Freeze and thaw cycles can be absolutely damaging on loose shingles and eventually will cause even more damage to your roof such as leaks and water damage.
Typically, a single hail storm won't do enough damage to warrant an entire replacement, however, if there are years worth of damage from previous storms, you may hit the tipping point. If the damage is beyond repair, or not cost-effective, find a trusted roofing company for roof replacement in Colorado Springs.
So next time you want to ask, "how much longer can we hold off?" remember to listen to the experts and take care of hail damage roof repair needs as soon as you can.