Colorado Springs Roofer
Let's face it, we live in an area that is hard on our roofs. Not only do roofs endure our freeze/thaw cycle throughout the year, plus the beating sun for the remaining months out of the year, but roofs must withstand the hail that occurs as well. Hail damage roof repair, or in extreme cases, roof replacement is a necessity in Colorado Springs, so when you are looking for an expert roofing contractor, look no further than All Trades Enterprises. With over 40 years of experience, we can handle roof installations, roof replacement, hail damage roof repair, and more.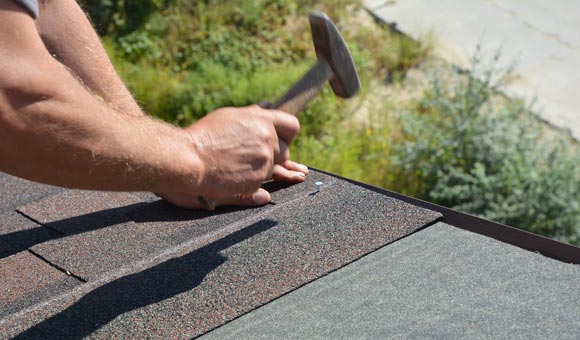 Working with a roofing contractor alone may not be sufficient to handle all the aspects involved in a total roof replacement and new roof installation. There are many aspects to consider, such as inspections, working with insurance, damage to siding, or other structural damage. Not to mention you want to be confident that the contractor you choose to work with is properly vetted, insured, and has a good reputation. That's why at All Trades Enterprises, we are more than just a roofing contractor; our general contractors can assist in all aspects involved in roof replacement. Plus, our company has been trusted to handle Colorado Springs roof installations for businesses and homeowners for over four decades.
Meet Your Local Roofing Contractor in Colorado Springs
At All Trades Enterprise – We Do It All With One Call!
Roof Inspections & Estimates
New Roof Installations
Hail and Storm Damage Roof Repairs
Roof Leak Repair
Asphalt Roofing
Shingle Replacement
Metal Roofing
Tile Roof Installation & Repair
Emergency Roof Repair Service
Roof Hail Damage in Colorado Springs
Colorado Springs residents are familiar with the need for hail damage roof repairs. Colorado Springs and the surrounding areas are a hotspot for hail storms. Located in what's called "Hail Alley", Colorado experiences three to four catastrophic hailstorms per year during the annual hail season from April to September. And this doesn't count the smaller hail squalls that occur as well. Your roofing takes a beating all year long, and you need to take care of it with regular roof hail damage repair services in Colorado Springs. All Trades Enterprises can repair or replace all types of roofs including asphalt, tile, and metal roofing.
During hailstorms, you might get more damage than just to your roof. All Trades Enterprise can also complete repair work on other areas such as siding and gutters. Some damage may be cosmetic while other destruction could lead to water damage, mold growth, and more.
Colorado Springs Roofer
Whether its a roof replacement, roof repair, or a complete roof installation, All Trades Enterprises is the experienced roofer that you need. All Trades Enterprises works with all types of roofs, including asphalt, tile and metal roofs, and can provide recommendations for your roof. And if you need emergency services after a storm, we will come out within two hours and board up any storm-damaged issue to stop the immediate problem. When weather permits, we will return to inspect the damage and give you a report on the next steps.
Colorado Springs is a city in Colorado at the eastern foot of the Rocky Mountains. It lies near glacier-carved Pikes Peak, a landmark in Pike National Forest with hiking trails and a cog railway leading to its 14,114-ft. summit. Colorado Springs is also home to a variety of cultural, educational, and historical attractions including the Cheyenne Mountain Zoo, the Colorado Springs Fine Arts Center, the American Numismatic Association Money Museum, Peterson Air and Space Museum, and the United States Air Force Academy. Colorado Springs consistently receives high rankings such as No. 1 Best Big City in "Best Places to Live" by Money magazine and other publications.