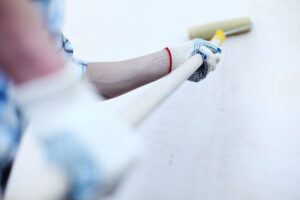 Do you want to give your house a makeover inside or out? Do you want to fix-up any damages within certain areas of your home? When was the last time you refreshed the paint on and in your house? Working with a professional painting company in Colorado Springs is the best option for a quick and affordable way to instantly improve the look of your home exterior and interior.
The bright clean look of a new coat of paint or the addition of a fresh new color will add more luster and shine to your home's interiors or exteriors, thereby increasing the value of the house. We, at All Trades Enterprise, can be the painting company you are looking for. Along with offering landscaping and roofing services, we also provide expert help with painting services. We are a family-owned business with over twenty years of experience in this field. We are known for our talented and expert staff who can carry out all these home improvement tasks perfectly. We can finish any painting project in a quick span of time so that you can get a beautiful home to enjoy (and impress your neighbors with). With our quality services and affordable pricing, we have become one of the preferred painting companies around. So, if you want to paint your house to give it a new look and are located near Colorado Springs, Fountain CO, Monument CO, Pueblo, or Woodland Park, then you can opt for us.
Top 2 Questions to Ask a Potential Painting Company Before Hiring
Here, we have put together a few vital questions that you must ask a company offering you painting services. Take a look.
What sort of paint do you use?
Before you choose a company to do the painting in your house, it is crucial to ask the company about the paint they use in order to know if the painting will be a high-quality one. Make sure it lasts long and can endure the blows of the weather.
How much will you charge for the painting services?
Budget is essential and in order to determine if it is an affordable option for you, you should ask how much they will be charging. Take these quotes and compare these with others to choose wisely.
So, if you want to choose us for painting your home, then quickly get in touch with us now.