Kitchen Remodel in Woodland Park, Pueblo, Monument, CO, Fountain, CO and Nearby Cities
5 signs you need to avail of kitchen remodeling
A kitchen remodeling project can breathe new life into your home and enhance the functionality and aesthetics of your kitchen space. All Trades Enterprise Inc. provides kitchen remodel services in Woodland Park, Pueblo, Monument, CO, Fountain, CO, Colorado Springs and surrounding regions.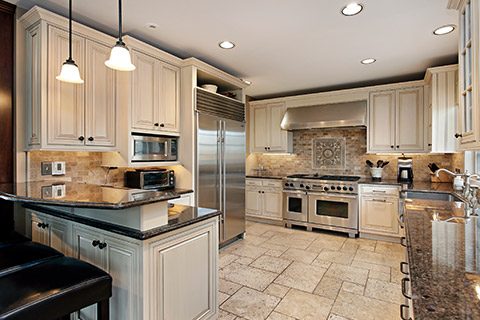 Here are five signs that indicate it's time to consider kitchen remodeling: 
Outdated or worn-out appearance: If your kitchen looks old-fashioned or worn out, it might be a sign that it needs a facelift. Peeling countertops, dated cabinets, faded tiles, or worn flooring can significantly impact the overall appeal of your kitchen.

 

Inadequate storage and workspace: If you find yourself struggling to find enough storage space for your kitchen essentials or you lack sufficient counter space for meal preparation, it's a clear sign that a kitchen remodel could help improve the kitchen's functionality.

 

Deteriorating or malfunctioning appliances: If your kitchen appliances are outdated, malfunctioning, or not energy-efficient, it may be time to upgrade them during a remodeling project. Modern appliances can improve efficiency, reduce energy consumption, and make your kitchen more enjoyable to use.

 

Poor traffic flow and layout: An inefficient kitchen layout can be frustrating to navigate and work in. If you find yourself constantly bumping into others while cooking or facing difficulties accessing different areas of the kitchen, a remodel can help optimize the layout for better traffic flow and functionality.

 

Changing lifestyle and needs: As your family grows or your lifestyle changes, your kitchen requirements may evolve too. If you need more space to accommodate a larger family, desire an open-concept kitchen to entertain guests, or have specific culinary interests that necessitate specialized equipment, a kitchen remodel can help you tailor the space to your current needs.

 
Remember, kitchen remodeling can be a significant investment, so it's essential to carefully consider your budget, priorities, and desired outcomes before undertaking the project. Consulting with a professional kitchen designer or contractor can help you create a plan that aligns with your goals and makes the most of your available resources. Please call us without hesitating.