The kitchen is the heart of the house. All your important meals are cooked in this space and that is why it is important to design this area carefully. But after a few years of time, due to regular wear and tear, even parts of your kitchen will require fixing. Moreover, in order to be updated with the latest interior trends, you also have to make a few changes here and there from time to time. That is why you should look for a professional kitchen remodel service. We, at All Trades Enterprise, can be the right solution for you. We are an established and reliable company which has been in this field for more than 20 years now. We can provide you with a wide variety of services, right from roofing installation, repair, and replacement, home renovations, siding repairs, and cabinetry, and countertop, to even landscaping, Painting, and so on. We are known for our efficiency, professionalism, and dedication towards all our clients. So, if you belong to areas like Colorado Springs, Monument, CO, Pueblo, Woodland Park, or Fountain, CO, then you can opt for us.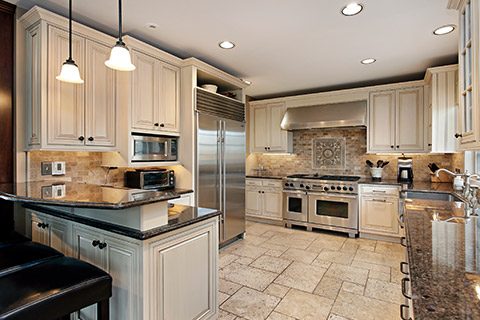 Here we have put together a few tips that will help you in your kitchen remodel design. Take a look.
You might not be aware but there is an invisible kitchen triangle that every interior designer tries to achieve when planning a kitchen design or remodeling. There should be an optimum distance between the countertop, cabinetry, and the sink. This increases your convenience and comfort as you can access everything at close quarters and can finish the cooking more efficiently in less time. You should also try to incorporate this design into your remodeling plan.
Nowadays, everything is becoming automated. You also need to be a smart homeowner and invest in modern appliances which will further add to an automated kitchen space.  This will add to your convenience and offer you a comfortable cooking experience.
So, if you need more such tips and an effective remodeling plan, contact us today.