Kitchen Remodel in Monument, CO
We hear about it a lot in different areas, that kitchen remodels are the thing to do with our homes in Monument, CO. But why do homeowners engage in the process of a kitchen remodel
in the first place? At All Trades Enterprises, we have seen a lot of different reasons why homeowners choose to remodel their kitchens, but there are a few reasons that are more or less universal. In some cases, there are multiple reasons to do a kitchen remodel. Don't go down the remodeling road without an experienced guide to help answer questions and provide expertise. Contact our team today to learn how we can help make your kitchen remodel project fast and effective.
Custom Kitchen Remodeling Services in Monument, CO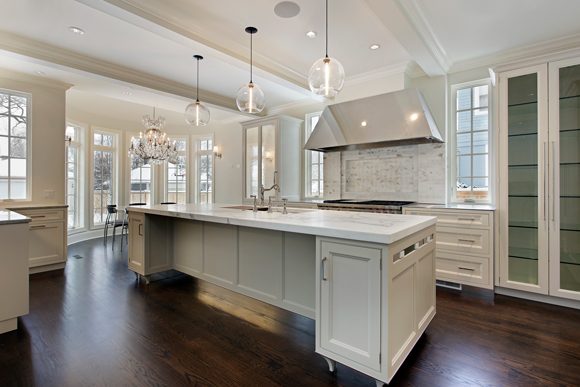 When you start working with our team for your custom kitchen remodeling project, one of the most important aspects that you want to accomplish is to have a kitchen that is functional for your family. This could be as simple as moving the sink a few feet or it could mean taking down a wall to combine a kitchen and dining room into a large eat-in kitchen with plenty of storage that can be the hub of family activity.
Do you want more of a professional kitchen because you enjoy cooking and experimenting? Maybe you want to downsize your kitchen to better suit your needs and use the extra space for other things. Your kitchen remodel will reflect your style and be a room that you enjoy using and being in rather than a place to avoid.
Kitchen Cabinet Installation and Kitchen Countertops in Monument, Colorado
Kitchens are a place with lots of storage for different appliances, cookware, serving dishes, and more. Not only can we help you identify the right cabinets, but we will also handle the kitchen cabinet installation. Often new kitchen countertops are a part of your kitchen remodel as a way to upgrade the space. Nearly all kitchen remodeling projects also increase the value of the home, both in terms of what a homeowner could get for the house as well as the increased enjoyment by the homeowner of the new space.
All Trades Enterprises has been working with homeowners and businesses in Monument, CO for more than 40 years. Monument's first homesteaders arrived in 1865 to mark out the town's preliminary shape, but settlement increased when Monument became a stop along the Rio Grande Railroad in 1872. The area was incorporated as a town called Henry's Station in 1879, but the name was later changed to Monument. Talk with one of our expert contractors today about your kitchen remodeling project.
Remodeled Kitchens
Remodeled Bathrooms
Remodeled Basements