The most effective method for ensuring that your hail damage roof repair is correctly placed is to hire a professional roofing service. In addition to possessing the appropriate licenses and tools, they will have the necessary experience and expertise to complete the task successfully. They will also provide a warranty on their work and be available to address any issues that may arise after they are finished.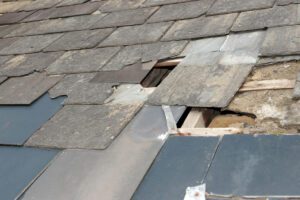 Let us look at the Advantages of hiring professionals for hail damage roof repair:
Identify Even the Smallest Details
As a homeowner, it's easy to overlook problems with your roof and the smallest details, especially after a storm. When they look at your roof, a professional roofer will make sure that no detail is overlooked. They always conduct thorough inspections and almost certainly will find even the tiniest problems brought on by storms. As a result, they can quickly resolve any underlying issues.
Decide the Degree of the Harm
A professional can evaluate the damage to your roof and recommend the most effective solution. They realize the harmful signs, what they mean, and how to fix them. You need a professional who can assess the extent of your roof's damage and recommend the best course of action.
Quality and a Guarantee
A reputable roofing company will back up the quality of their work with a guarantee. This indicates that they will be available to resolve any issues you may encounter. Additionally, it indicates that the roof will be able to withstand the elements and weather as intended.
All Trades Enterprise Inc. are happy to provide you with a list of references for roof repairs in Colorado Springs, Monument, CO, Pueblo, Fountain, CO, and Woodland Park areas because we have been in the area for more than two decades. We are equipped, licensed, and insured to inspect your roof and provide you with a free estimate and accurate assessment.