If you own a house, you must be having a few dreams about how to deck up your rooms and bathrooms, and kitchen. Let our team of craftsmen at All Trades Enterprise help you out in getting the kitchen of your dreams. We have different types of remodeling projects where we come up with various kinds of custom kitchen cabinet ideas. We have a team of experts that has the necessary expertise and knowledge required in this field and also has access to the latest tools and state-of-art equipment to offer you kitchen cabinets, countertops, and ever fixtures that will make your life simpler and easy to handle. We have offices in and around the regions of Colorado Springs, Monument, CO, Woodland Park, Fountain, CO, and Pueblo.
Below we have mentioned 3 strategic custom kitchen services we have to offer you. Take a look.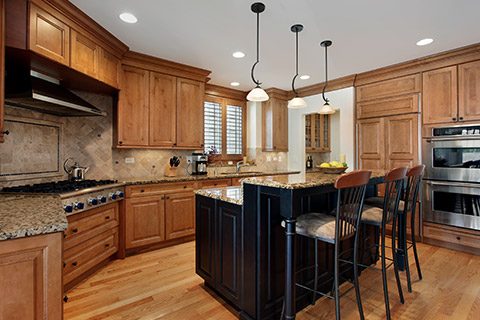 Design
Choosing a design for your kitchen cabinets can be quite a task. Our team will bring for you a wide variety of custom kitchen cabinet ideas and along with it can provide various new suggestive ideas that might go well with your kitchen setup and be useful to you.
Planning
After finalizing on the kitchen cabinet design, the next important step is to plan the layout of the cabinets along your kitchen walls. Our professionals will come up with a practical plan that will not only make your kitchen look good but will also fit your budget.
Installation
We take great pride in our team of contractors who are experts at kitchen cabinet installation. They not only keep it simple and worry-free but also are quite quick and hassle-free. They are trained to design and install these cabinets efficiently with minimal interruption to your every day routine.
So, if you are looking for a custom kitchen idea, you can get in touch with us.