Commercial Roofing Contractor Monument, CO
Because leasing a commercial building is expensive, there is a need for Monument business owners to address damages to their offices. Roof maintenance is essential to ensuring the highest quality industrial building and keeping you and your workers safe. That's why hiring a roofing contractor in Monument, CO, is vital to keep your roof in the best shape possible. 

All Trades Enterprise provides commercial properties with roofing services in Monument. With several years of experience, we are the premier commercial roofing contractor Monument, CO residents come to for all their maintenance needs. 
Our expert team of contractors proudly serves local Monument businesses, from addressing hail damage to scheduling routine maintenance checkups. We also help you select the best roof material from our catalog, including metal roofing systems, rubber, asphalt, etc. 
Roofing Contractor in Monument, CO for Commercial Roof Installation 
We know that this area is among the most prone to hailstorms. That's why we make sure that all of our contractors are highly trained and experienced in repairing hail damage. Hail can massively damage your roof, causing dents, chips, and breaks. As with many other roofing issues, these problems worsen if left unattended, costing you thousands of dollars in repair costs. 
We've lived in the Monument area for decades. Our team has seen all the damage that hail causes local businesses. Protect your commercial property with a maintenance checkup before and after hail season. Our contractors know what to look for and project any issues you may encounter in the future. It's always best to get ahead of roofing issues.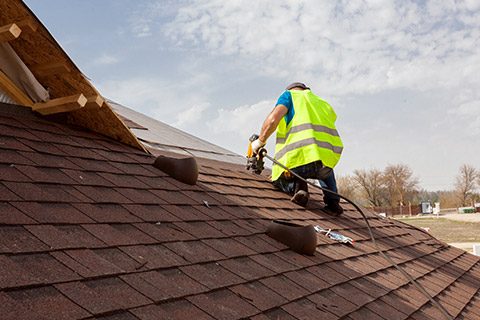 Commercial Roofer Serving Monument, Colorado 
Of course, our roofing repair company offers way more than just hail damage fixes. We also provide solutions to some of the more common roofing issues that Monument businesses face. 
These issues include leaks, tenting, poor installation, shrinkage, chips, punctures, pooled water, and more. Like hail damage, the best way to avoid these problems is to hire a roofing company to inspect your roof. 
Many business owners don't realize they have a problem until it's too late. Think of checking your roof like getting your annual physical with your doctor. We'll thoroughly check out your roof and give professional feedback as to what we notice. If the best option is a new roof installation in Monument, CO, we can help make it happen.
Proudly Serving Monument Commercial Properties 
Monument, CO, is a unique and wonderful place to own a business. Located in the Rampart Range of El Paso County, the statutory town has a rural atmosphere with beautiful landscapes that boost your daily mood. It is an exceptional place for both experienced and young professionals. 
We proudly serve the Monument, CO area by providing expert commercial roofing services to thousands of businesses throughout the area. Get a free estimate when you contact us today and see how we can be of service to your corporate building!